Set-Up Steps for the Free Perceptual Map Excel Template
Click the below link to download
Open the Excel file
Click to enable editing
Follow the instructions in the spreadsheet – or watch the instructional video below.
Get Your Free Download of the Perceptual Map Template
Click here to download your free_download_perceptual_map_template
No password required!
There are formulas and calculations scattered across the spreadsheet, so the key cells have been protected to ensure that the template runs without errors.
Follow the instructions and enter your data as indicated – the template will work fine and no password is required.
Overview of the Template
When you open the template, it looks like this…

And when you enter your marketing data (axis/attribute labels, brands/firms, and perceptual scores), then the perceptual map is produced automatically and looks like this…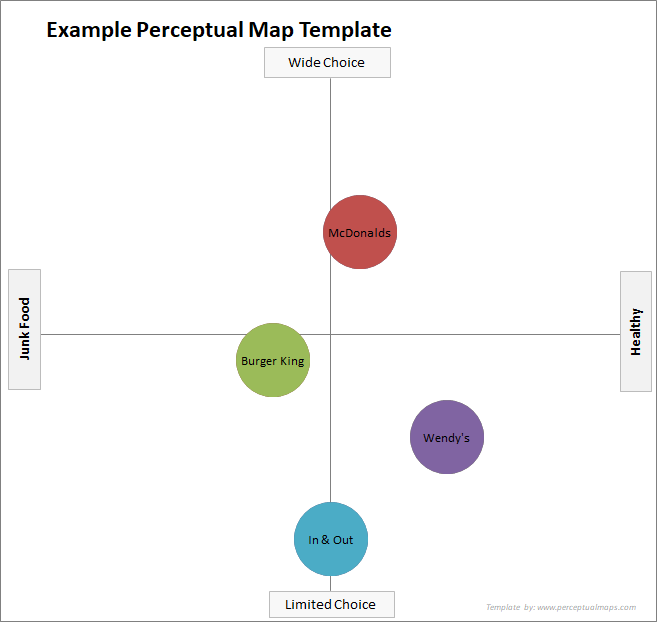 What's New in the Mapping Template?
The mapping template is maintained and updated yearly. The latest version now includes:
A Data Converter spreadsheet (in a separate worksheet tab) – that allows you to convert data in any scale into a 1 to 9 scale for improved formatting and presentation of your perceptual map
Improved instructions – although this Excel template is very easy to use, simple step-by-step instructions are available to follow
And although not recommended, a password to unprotect the worksheet is listed at the top of the template
Tips on Using the Mapping Template
Perceptual maps are designed to show the perceived positioning of brands in the marketplace. Overall consumer, or market segment, perceptions are shown for competing brands.
The template uses a traditional two-axis perceptual map that is usually taught to marketing undergraduate students. But please note that positioning maps can be constructed in different ways. Therefore, this website has several templates available that can produce different forms of positioning maps.
The spreadsheet is easy to use, but you can follow these instructions for more information. You can produce all the perceptual maps in COLOR, please see the section on how to format your map.
There is also a separate data convertor spreadsheet available if your starting data is not in a 1 to 9 point scale – but this is now automatically included in the latest updated template.
Check Out Multi-Map Template
If you need to construct more than one perceptual map – which is the most common scenario – then you might be better off with the Fast Perceptual Map Maker. This template allows the input of up to 25 attributes and up to 25 brands, which then enables you to review up to 300 perceptual maps amazingly fast. A great analysis tool.
Need Help?
If you have any problems, just email me and I'll see if I can help you. (email = geoff@marketingstudyguide.com)
Instructional Video on Using the Template
The following video also shows you how to use the Excel template.
---
Helpful Academic Journal Article
Perceptual Position and Competitive Brand Strategy in a Two-Dimensional, Two-Brand Market