Here is the download for the free fast_perceptual_mapping_template_2020
What the Map Maker Does
This template is designed to create and review multiple perceptual maps very quickly. It is Excel-based and very easy to use.
The mapping template enables you to:
Enter up to 25 brands (or firms or products)
Enter up to 10 unique attributes and their data
Map any combination of these attributes immediately
Add/exclude any of the brands/firms from the map
Automatically change bubble sizes on the map
As a result, you can review up to 45 unique maps (by selecting the image attributes) within minutes – and then you vary each of these maps by brand and size even further. It's a very powerful and fast analytical tool.
How to Use the Fast Perceptual Map Maker
When you download the free template (link above), it opens like this…

As you can see, the steps are clearly shown in yellow, and then you only need to enter data into the blue cells. When you open it the blue cells will be blank, but there is some example data here to demonstrate how the template works.
After you enter the map title and attributes, you then scroll down to enter the brands and image data as follows:

And that's it. We are now ready to generate lots of maps really quickly by using Step 5. In this step we simply select which attributes that we want to view on the map, as shown here…

In this example, attributes 2 and 5 (as per your data) have been placed on the map. And each time we change a number in the attribute boxes, a new perceptual map is automatically generated.
Because we are moving so quickly – reviewing lots of maps – a mini-map appears at the side. If it looks interesting (in terms of our analysis), we can scroll down to the complete map an copy/paste it into our report or presentation. This is how the completely formatted map looks…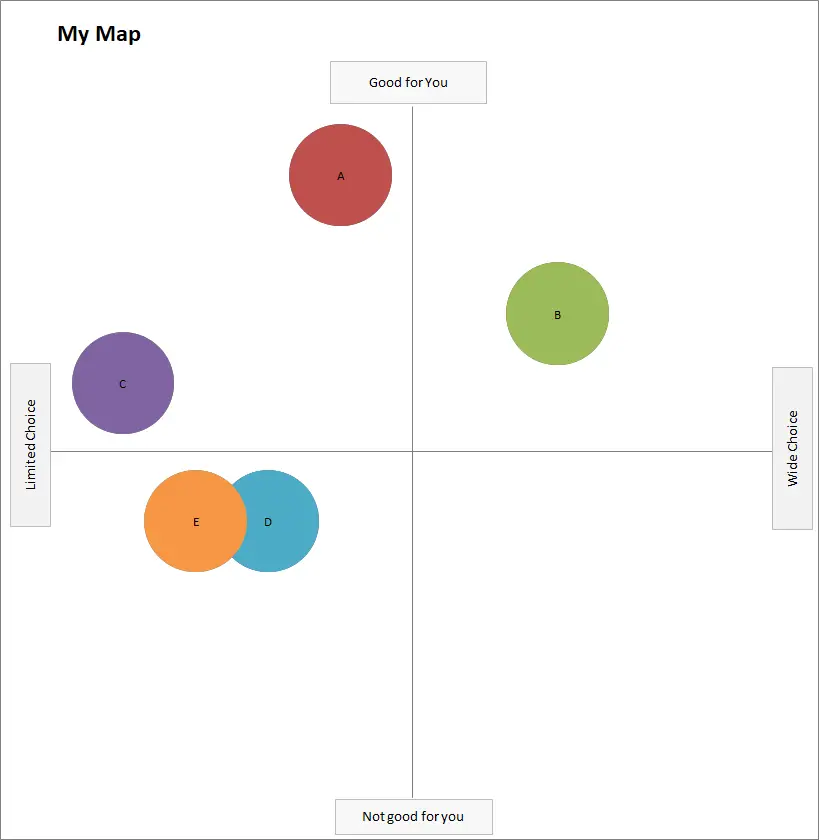 How-to Use the Fast Perceptual Map Generator (Video)