Overall similarities (OS) perceptual maps (which are also sometimes referred to as gap maps, or even a proximity matrix or a distance matrix) are another variation of producing a perceptual map. These maps use a different form of data input – asking respondents how similar brands are, rather than asking them to rate attributes.
Please note: If you want to produce a standard two-axis perceptual map, then you should go to the download page. If you want to make and understand an Overall Similarities (OS) perceptual map, then stay on this page.
On this page you will find:
A simple overview of OS maps
A free Excel template to download, and
A video on how to use the template and interpret overall similarities (OS) perceptual maps.
An Overview of Overall Similarity Maps
An Overall Similarities (OS) perceptual map is simply another method of building a perceptual map.
There two key differences (compared to a standard perceptual map):
Consumers are asked to compare how similar the brands/products are in their view (or their perception – hence it creates a perceptual map). For example, how similar are McDonald's and Burger King? How similar are McDonald's and Pizza Hut? And so on.
The output perceptual map does NOT contain axes or axis labels. The brands/products are just plotted relative to each other – either close to or far away from competitors.
Why Use an Overall Similarities Perceptual Map?
Overall similarity perceptual maps are helpful if you are unsure of how consumers think about and distinguish between the offerings. That is, you are not sure of what are the most appropriate product attributes to use on a standard perceptual map.
Whenever you provide consumers with set attributes to rate brands/products, you are limiting their choices and views to these specific attributes (note: attributes are benefits and product features). However, by eliminating attributes in the survey you can see how consumers (across different market segments) connect and associate the competing brands and products.
Hopefully… you will uncover some new information on how consumers think and relate brands in this product category.
The Challenge of an OS Gap Map
As stated above – there are NO labels on the X and Y axis – in fact, there are no X or Y axes produced.
This means that by using this technique, you will need to work out HOW the consumers think, classify and different between the competitors.
Therefore, because OS perceptual maps only provide a series of points, you will need to work out the underlying driving factors – that is, what attributes and other factors are consumers using to help them make purchase decisions in real life. (Note: There are some examples of how to do this below, which are also explained in the video at the bottom.)
The Free Template for the Overall Similarities Map
Here is the free Excel template for an OS perceptual map for download.
overall-similarity-perceptual-map-template
Note: Requires Excel 2010 or later.
Interpreting an Overall Similarities Perceptual Map
This is the tricky part and it may take a little time to figure out the underlying dimensions of which factors are driving the consumers' perceptions. Let's look at some examples of an OS perceptual map as produced by the free template map.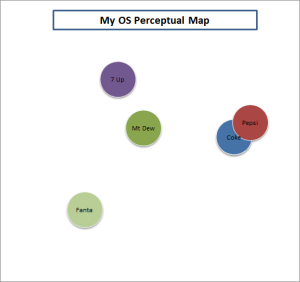 Click to enlarge
This is the output of five soda (soft drink) brands. Note that there are NO axes or labels. The next task is to work out the underlying influences. A possible explanation is shown below.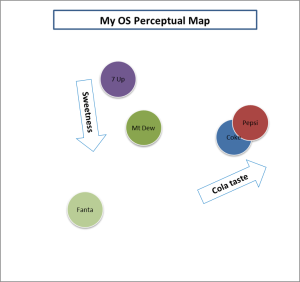 Click to enlarge
However, ANOTHER possible set of consumer-based perception factors are shown in the next version of the map. You should note that this is the SAME map – but two different attributes have been identified.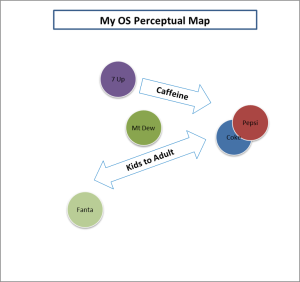 Click to enlarge
And it is even possible to build in more than two factors – as shown in this OS perceptual map.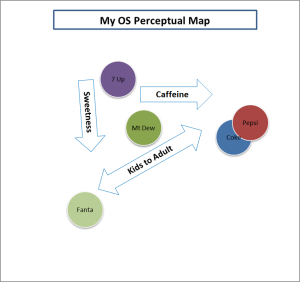 Click to enlarge
Key points to know about interpreting an overall similarities perceptual map
You need to determine the likely factors/influences that consumers have used in forming their view (perception) of how the different brands in the market are interrelated
These influences can run in any direction – that do NOT need to run up/down and left/right as found in a standard perceptual map – and the two factors do not need to run at right angles from each other
There WILL be more than one logical solution – you may need to consider the best version for your needs
You can have more than two factors on the same map
Because it aggregates all perceptions into one map – it needs to force some of the relationships – therefore, no every single brand position may make 100% sense (think of it like an average) – try to map out some brands on paper on a similar/dissimilar basis and you will see that challenge once you get to 5+ brands
It is a helpful technique because it forces you to think about the consumers and their thinking process
BUT… a poor interpretation of the map (that is, identifying the wrong factors) will result in a poor understanding of the market and subsequent poor marketing decisions as a result