Upgrade to the Fast Perceptual Map Maker for Excel
If you have found the free perceptual map template useful, and you need to create multiple perceptual maps – then this REALLY FAST perceptual map maker is probably for you! Like the free version, this template is also Excel-based and easy to use.
In this sample video, 8 perceptual maps are produced in 13 seconds (video has no sound)
---
Key Features of the Fast Making Perceptual Map Template
The mapping template enables you to:
Create and review up to 300 unique perceptual maps very quickly
Enter up to 25 brands (or firms or products)
Enter up to 25 unique attributes and their data
Map any combination of these attributes immediately
Add/exclude any of the brands/firms from the map
Automatically change bubble sizes on the map
It is a great tool for marketers and analysts alike, that enables you to can review up to 300 maps (with 25 different attributes) within an hour or so.
Great Value at Only $15
The really fast perceptual map Excel template is available for a one-off price of just $10. This is an unlimited lifetime license. And if you're a marketer or an analyst, chances are you will be using this tool for many years to come.
For an overview of the tool and how fast it is – check out the video below.
To purchase, click the button below – payments are via PayPal (which also accepts credit cards). You will then be able to download your template immediately and you will be mapping in minutes.
---
Overview of the Fast Perceptual Map Maker
When you download the Excel template,  it opens like this…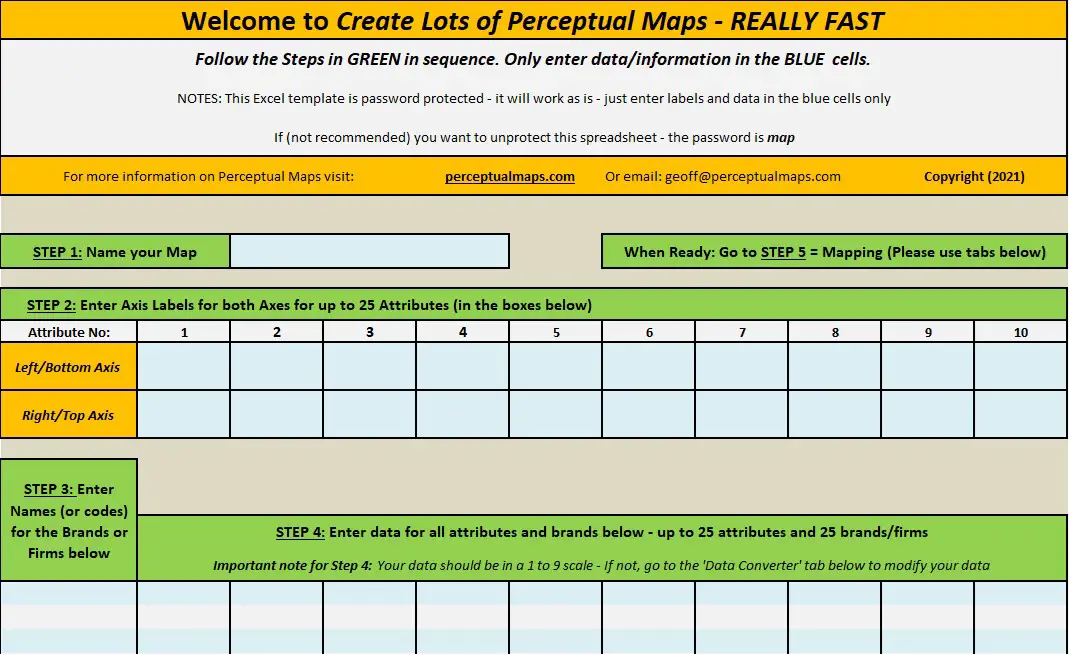 As you can see, the steps are clearly shown in GREEN, and then you only need to enter data into the blue cells.
Step 1 = enter the name of your name
Step 2 = enter the labels for your attributes
Step 3 = enter the brand (or firm) names
Step 4 = enter your perceptual data
And that's it. We are now ready to generate lots of maps really quickly by using Step 5. In this step we simply select which attributes that we want to view on the map, as shown here…

In this example, attributes 4 and 9 (as per your data) have been placed on the map. And each time we change a number in the attribute boxes, a new perceptual map is automatically generated.
Because we are moving so quickly – reviewing lots of maps – a mini-map appears at the side. If it looks interesting (in terms of our analysis), we can scroll down to the complete map an copy/paste it into our report or presentation. This is how the completely formatted map looks…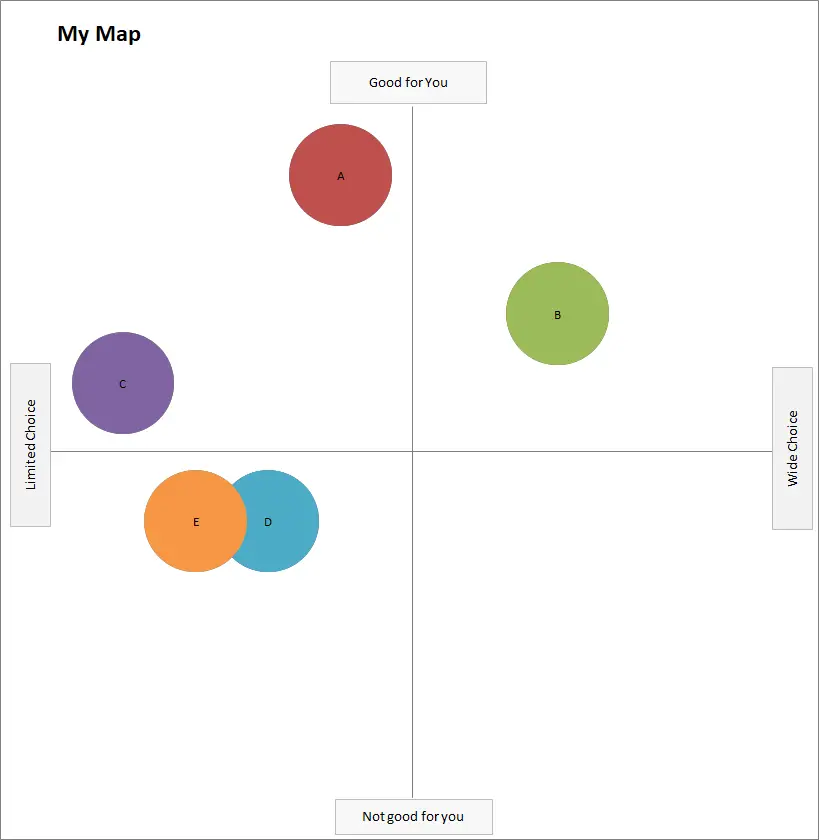 Optional Steps
For added functionality, there are two optional steps built into the fast mapping template, as follows:
Step 6 = Remove specific brands from the maps
Step 7 = Change the circle sizes (larger or smaller) for each of the brands
---
How-to Use the Fast Perceptual Map Template (Overview Video)
---
List of All the Perceptual Maps and Other Templates
---
Need Mapping Help?
I hope that you find the spreadsheet templates easy to use, as well as being a big time-saver. If you have any questions, you can email me.
Or I can design a template for you – email me for a quote. Email = geoff@perceptualmaps.com