Determinate attributes are very important when preparing perceptual maps. In particular, the standard two-axis, four-quadrant, perceptual map relies upon determinate attributes being identified and scored and input into the map.
Products are the sum of their attributes
All products are made up of individual attribute, which are essentially all their products features and benefits. For example, a simple table and chair set would be made up of different pieces of material, different colors, different shapes,different sizes and so on. All these are individual product attributes help deliver benefits to the consumer, such as convenience, comfort, style, household decorations,durability, and so on
Two main types of attributes
There are two types of attributes to be concerned about:
Important attributes and
Determinate attributes.
Important attributes are the features/benefits a product MUST possess for a consumers to consider it a possible suitable choice to their purchase decision. A consumer will then consider multiple alternatives of brands that possess all their important attributes, then the consumer will select the most appropriate brand based on the brand's determinate attributes.
An example of determinate attributes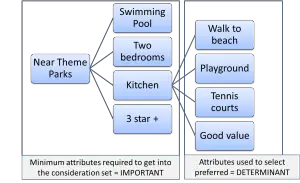 Probably the best way to understand the difference between an important attribute and the determinate attributes is to use an example. This example is listed in the diagram to the left, for a family holiday decision.
As you can see there are two sets of attributes listed, the first of all boxed under important attributes, and the second all boxed around determinate attributes.
 
This family who is looking to book a holiday has important attributes of the hotel being located near a theme park, having a two-bedroom suite available, a kitchen available, a swimming pool, and the of a reasonable quality standard there would probably be a number of hotels that would satisfy these important attributes for the family.
 
Therefore, to complete a decision, the decision maker then relies upon determinate attributes. In this case the determinate attributes that will decide the final choice of hotel for the family are: its location relative to the beach, whether or not it has a children's program, whether or not it has tennis courts, and whether or not it provides good value.
More examples of determinant attributes
In the following three example of airline advertising, you can see that the airline is not advertising or promoting its core service. In the case of an airline, its core service would be flying people to certain destinations. Instead each airline focuses on what they perceive to be the consumer's determinate attribute – or how they are choosing between airlines.
 
In the first ad, United Airlines sees seat space and legroom as a determinate attribute. Then Southwest sees the ability to use a laptop and a cellphone during the flight as a determinate attribute. And finally, Air New Zealand sees quality food as being a determinate attribute.
 
In other words, these are the aspects of the service offering that the airlines believe that consumers use to help differentiate and choose between competing brands. Therefore, it should be these types of attributes that are listed on perceptual maps.