Some students still prefer, or feel comfortable, in making their perceptual maps in PowerPoint. Although not as precise and as easy as using the free Excel perceptual map generator available on this website, it is still an effective approach, particularly for college assignments and reports.
There are two approaches to making a perceptual map with PowerPoint, these are:
Use the free perceptual map template for PowerPoint, available for download below, or
Make a perceptual map using PowerPoint, as described further below as well.
Free Perceptual Map Template for PowerPoint
This is the easiest approach of your two choices. Simply click the following link to download the PowerPoint slide that contains the perceptual map template – which should look like the following PowerPoint slide.
Click here to download the free perceptual map PowerPoint template.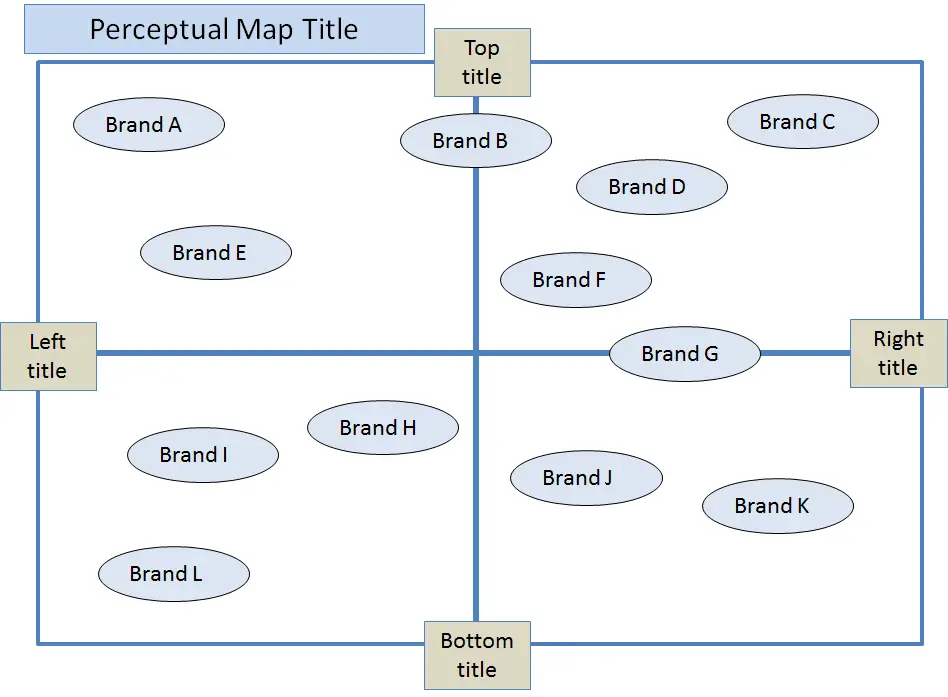 Steps to use the perceptual map template for PowerPoint as shown above:
Click on "Perceptual Map Title" to type in your own map title
Click on the four boxes on the ends of the attributes (e.g. "left title", etc.) to type in the names of your attributes (note" resize all these boxes if necessary)
Click on the ovals (e.g. "Brand A", etc.) to rename the circles to the brands (or firms) that you are mapping
Delete the ovals you don't need, or copy/paste more ovals if required
Move the ovals/brands around your perceptual map to reflect your data (or your market understanding)
Click on all map elements and copy/paste to Word (or other program) for use in your report or presentation.
Making a Perceptual Map Using PowerPoint
Building a perceptual map from start to finish using PowerPoint is relatively easy. Your positioning map should look a lot like the above template map when you are finished. The general steps are as follows:
Insert a square/rectangle as the outside border (click "insert/shapes") – then go to "space fill" and select "no fill" – then use "shape outline/weight" to change the thickness of the border
Insert a horizontal line and a vertical line for the axes – again use "shape outline/weight" to change their thickness (and there is a color option here too)
You will then need to insert "text boxes" for the names of your perceptual map and its axis titles – just insert, type, resize (if necessary) and move – you should also center text and add a background color if required
You also use the same system (as step 3) for your brand (and attributes if required) – that is, using a text box, which is then moved to the right position on the perceptual map.
If you want to change the shape of any text box -say to a circle – then click on the text box, which should bring up "format" on the top menu – then click on "edit shape" and select whatever shape you want to use.
Other options to making a perceptual map
Probably the fastest and easiest way to make a perceptual map (or several maps quickly) is to use the free Excel template for perceptual maps available on this website.