Once you have downloaded the free spreadsheet template, you should open it with Excel from Microsoft Office.
There are seven steps to follow. Here are steps one, two and three. In these steps you are simply giving the perceptual map a suitable title and labeling the two axes. Please note that each axis is labeled at each end to highlight the extremes of the product attribute – such as 'modern' and 'old-fashioned' or 'fun' and 'serious'. You can follow the steps below OR review this video.
Perhaps surprisingly, it is often difficult to select suitable product attributes for use. Therefore, you may find it beneficial to review 'ideas for product attributes' to help get you started.
Click on the below image to enlarge it for better viewing.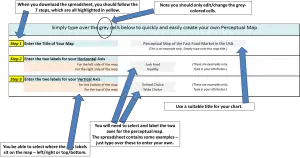 The following image discusses steps four and five. In step four you simply list the firms, brands or products you want to show in your map. Then, in step 5, you need to score both of the product attributes that you have decided to use for your map.
Normally, in a real-life business setting, you would probably have access to some marketing research data that would provide the input data for a perceptual map. You may have access to this kind of survey data using an online questionnaire. However, in many cases you will need to use your own judgment in determining the attribute scores. Please keep in mind that you are trying to map how the target market perceives each brand or product, not your own personal view of the brand.
Again, click on the below image to enlarge it for better viewing.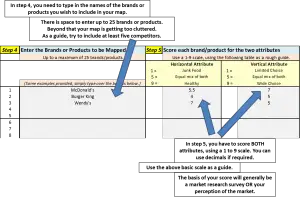 Step six is an optional step. By entering a number in this column you can make the circles that show in the perceptual map larger or smaller. If you want all circles to be the same size, then leave the '2' number in the column (2 = medium-sized circles).
If you want the some circles to be larger (for larger firms or brands with strong equity) and some to be smaller (for smaller brands), then you can input 3 for larger and 1 for smaller.
Step seven is viewing your completed perceptual map. If you are happy with it you can copy and paste it. When you paste it into another document it is probably worthwhile doing 'paste special' and pasting it in a bitmap format to ensure that the look of the map is kept intact.
If you are not happy with your perceptual map, then simply change the product attributes or fine-tune the attribute scores. You will probably need to play around with the map for a little while in order to produce a perceptual map that is reflective of the target market's view of the competing products and brands.
When you download the spreadsheet file, it already has three firms listed (in order to give you an example of how to create your map). Therefore, you will see this initial perceptual map (shown below). Obviously, as you enter your data and labels, the map (chart) will be automatically updated. You can view some examples of the perceptual maps created by this spreadsheet to get a sense of what your map should look like.
Again, click on the below image to enlarge it for better viewing.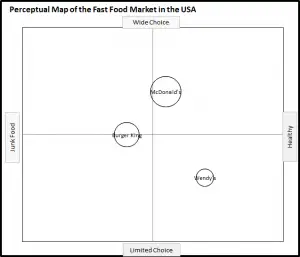 Learn More about Segmentation, Target Marketing, Positioning and Perceptual Maps
Perceptual mapping is a technique that essentially visualizes the core marketing activity of segmentation, targeting and positioning (which is often referred to as the STP process). I have an eBook available in PDF that reviews these important topics for just $2.99. Click the book's image to learn more.